Dr Sahil Singla, Plastic Surgeon in Panipat
MBBS, DNB (General Surgery), DNB (Plastic Surgery) Maulana Azad Medical College, LNJP hospital, New Delhi
Expert in Cosmetic, Plastic, & Reconstructive Surgery
What are the procedures performed by Best Plastic Surgeon in Panipat, Dr. Sahil Singla?
Certain situations or diseases are treated by the best plastic surgeon in Panipat – Dr. Sahil Singla; for example, when a child is born with a malformation that affects normal function or physical appearance, or when a physical abnormality occurs due to an accident, illness, or aging itself.
We are also consulted on problems that affect the hand, problems that require microsurgery, and craniofacial problems. Some urgent situations are also treated by plastic surgeon in Panipat, such as burns, facial wounds, trauma to the face, and bites.
What are the differences between Reconstructive and Aesthetic Plastic Surgery?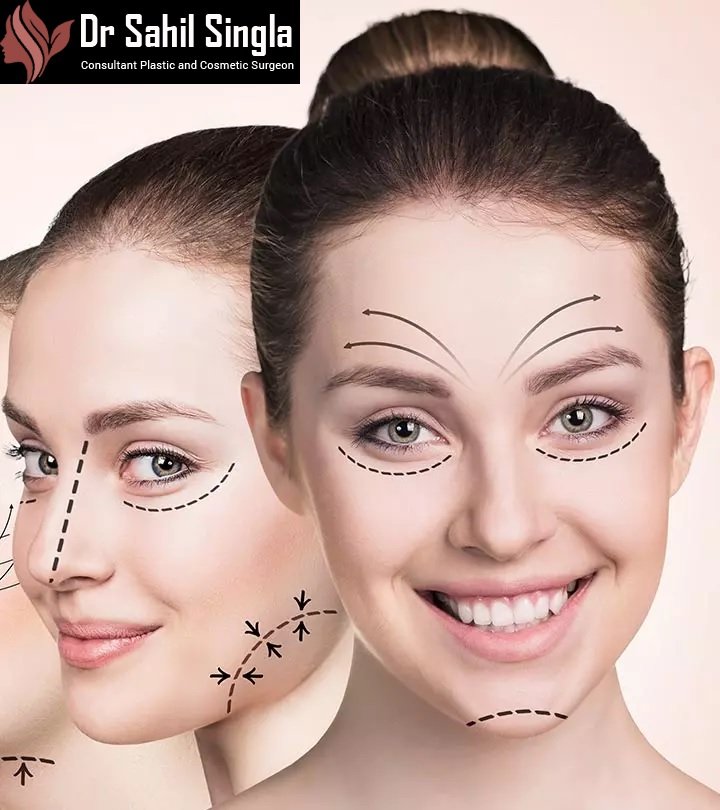 Both cosmetic surgery and reconstructive surgery are part of plastic surgery, a specialty that in our country is known as Plastic, Reconstructive and Aesthetic Surgery. Aesthetic surgery is performed to improve the normal structures of the body with the intention of increasing the attractiveness of the patient and their self-esteem. The specialty of Aesthetic Surgery as such does not exist, just as there is no aesthetic surgeon; Only plastic surgeon in Panipat is officially endorsed to perform aesthetic surgery.
Reconstructive or reconstructive surgery is performed on abnormal structures of the body, caused by congenital problems, growth or development problems, trauma, infection, tumors, or disease. It is done, above all, to improve function, although it can also be done to improve physical appearance.
Is Aesthetic Surgery suitable for me?
If you are thinking about the possibility of undergoing a Plastic or Aesthetic Surgery intervention, you should ask yourself certain questions: why do I want to undergo this intervention? And what do I expect from surgery, or what do I expect Plastic Surgery to do for me?
There are two categories of patients who would be good candidates. The former are those with a very positive image of themselves and who are concerned about a certain physical characteristic that they would like to improve or change; After the surgery they will be satisfied with the result and will continue to maintain a positive image of themselves. The second category would consist of those patients with a physical or aesthetic defect that has worsened their self-image over time; After the surgery, they will need some adjustment time and will gradually strengthen their self-esteem. It is important to remember that Plastic Surgery can produce both physical changes and changes in the image of oneself and in self-esteem.
If you are considering having an intervention to try to influence someone other than yourself, you may end up disappointed. Your friends or loved ones may respond positively to your intervention, but Plastic Surgery is designed to make changes for you, not others.
Although there are exceptions, there are certain situations in which other alternatives are recommended before considering the possibility of undergoing cosmetic surgery: patients with unrealistic expectations, patients in crisis, patients impossible to satisfy, patients obsessed with minimal defects and patients with mental illness.
If you are thinking of undergoing a Plastic or Aesthetic Surgery intervention, meet Dr. Sahil Singla, best plastic surgeon in Panipat.
Dr. Sahil Singla, Best Plastic Surgeon in Panipat +91 9873748259
LHDM & Prem Hospital Private Limited
Opp, Bus Stand Rd, Bishon Sarup Colony, Panipat, Haryana 132103
Monday, Wednesday, Friday – 9:00AM to 10:30AM
Dermawave
Dermawave Sumit Skin laser & Hair Transplant Centre, Gohana Chowk, near Grand Trunk Road, Shiv Nagar, Panipat, Haryana 132103
Monday, Wednesday, Friday – 12:00PM – 3:00PM