Unless you've lived in a bubble your entire life, you probably have at least one scar. For most people with the most scars, they may worry less about their scars. However, for others, having a poorly formed scar or a visibly localized scar can be quite distressing. Scars can also affect function. As someone who has undergone scar revision surgery in Karnal, Dr. Sahil cares a lot about having a better appearance and more functional scars.
Dr. Sahil will delve into the possible factors that contribute to poor scar development and develop a plan for scar treatment in Karnal to improve your scar. Come in today to see what's possible for your scar revision in Karnal!
What is a scar?
A scar is the result of the natural process of repairing the skin from wounds caused by accidents, illness or surgery. The more damaged skin is, the longer it takes to heal and the more likely it is to be noticeable or unsightly. The scars are initially strong pink and noticeable, with time they lighten and fade.
The skin of a young person produces much stronger scarring and tends to repair excessively, resulting in longer and thicker scars than older skin. On the other hand, a scar on the jaw, chest or shoulder bone is more stressed than on the cheek and tends to produce a more prominent scar. A scar that crosses the lines of natural expression produces the impression of looking much older since it does not follow a normal pattern, in addition a scar that is wider and with wrinkles will be much more noticeable because it is not a natural line.
Although no scar can be totally eliminated, in selected cases, the plastic surgeon in Karnal can improve the appearance of the scar.
There are various procedures that minimize the visibility of a scar, but it must be taken into account that in some patients, a part of the scarring sequelae will probably persist permanently.
Scars that are oriented in the same direction as the lines of minimal tension of the skin tend to have good aesthetic quality. Through specific surgical techniques, we take advantage of this characteristic of the skin to minimize scarring.
What are hypertrophic scars? What are keloid scars?
Some scars may not get much better, if at all, over time! These include hypertrophic scars and keloid scars. Both types of scars appear similar at first, but they have some very important differences, particularly in treatment strategies. A hypertrophic scar can improve or resolve with steroid injections alone, while a keloid scar is much less likely to do so. That is why it is important to find out what type of scar we are dealing with.
Keloid scarring runs in families, and most patients will have other family members with these troublesome scars. Keloids can continue to GROW even without additional injury. Also, surgery can encourage them to grow back or even grow faster. Therefore, the treatment for keloid scars is more aggressive and will generally involve steroid injections with surgical excision. Together, you and Dr. Sahil will create a plan that fits your goals
Factors that affect the quality of a scar
Age
Location on the body
Smoking
Solar exposition
Genetic predisposition
When Should You Consider Scar Revision Surgery?
Scars are not considered mature until 8-12 months after the wound has healed. This is because changes continue to occur at the cellular level during this time. Usually the scar will fade in color, flatten and smooth. Therefore, most scars improve in appearance and texture over time, which is why Dr. Sahil will generally have patients wait at least 1 year before offering a surgical scar revision in Karnal. Patients may also become more accepting of the scar over time and eventually "forget about it."
How is scar revision in Karnal performed?
There are various procedures to correct scars. The simplest is the simple excision. It consists of resecting the entire scar and carefully suturing the edges of the wound in one or more planes. Most scars can improve with this technique.
In more complex cases, the direction of the scar must be changed (Z-Plasties), grafts of skin obtained from less visible areas of the body must be performed or new skin created through cutaneous expansion to replace the scar tissue.
Extensive or complex scars may require several surgical times.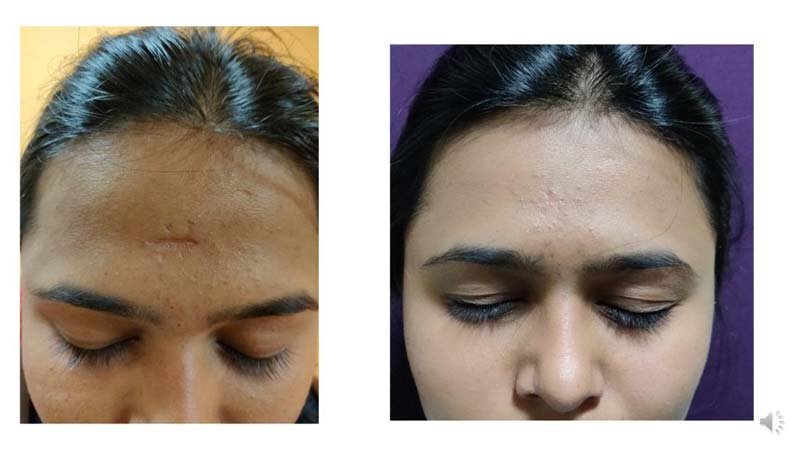 What are the risks involved in scar treatment in Karnal?
Many of these procedures can be done under local anesthesia. When the area to be treated is considerable, general anesthesia will be required with hospital admission.
A minimal scar can be corrected in approximately half an hour, but as the complexity increases, the operative time also becomes longer, and can be up to several hours.
The main complications include infections, bleeding, complications associated with anesthesia, or recurrence of the scar in the form of a keloid scar. Some patients have a tendency to develop pathological scars called hypertrophic or keloid. These scars are extensive and reddish in color, and grow beyond the limits of the incision or wound.
What precautions should be taken after the procedure?
After scar treatment in Karnal, sometimes a special bandage is needed for a few days. However, in most cases you can take the usual shower the next day and heal the scar with a specific ointment. The sutures are removed within 10-15 days.
The final result of the scar correction can be seen 6-12 months after surgery.
The pathologies related to this procedure are:
The scars may be produced by various pathological conditions (acne, chicken pox skin sores), accident, trauma (with or without tissue loss), burns or surgical interventions prior.
The most important thing to minimize these risks is the careful choice of your plastic surgeon and the center where to operate, the latter must have all the means and qualified personnel to face any complication.
Dr. Sahil Singla, Best Plastic Surgeon in Karnal
+91 9873748259
Amritdhara Hospital
Address
Chaura Bazar Rd, Chaura Bazar New, Karnal, Haryana 132001