Dr Sahil Singla, Plastic Surgeon in Chandigarh
MBBS, DNB (General Surgery), DNB (Plastic Surgery) Maulana Azad Medical College, LNJP hospital, New Delhi
Expert in Cosmetic, Plastic, & Reconstructive Surgery
Best Treatment Offered By Plastic Surgeon in Chandigarh
Dr. Sahil Singla, Best Plastic Surgeon in Chandigarh
Dr Sahil Singla is the best plastic surgeon in Chandigarh. He is a specialist in plastic surgery who performs treatments and surgeries that improve the appearance and function of the face and body. You can consult Dr Sahil Singla at Singla Clinic, Shop No 164, Sector 28-D, Chandigarh.
What does a plastic surgeon do?
The work of a plastic surgeon can be corrective, such as repairing an injury or burn. Corrective plastic surgery is also needed to correct congenital malformations and treat soft tissue infections.
Restorative plastic surgery corrects changes in the body or breasts caused by pregnancy or breastfeeding.
Plastic surgery can also be aesthetic. Aesthetic plastic surgery can be used to correct signs of ageing, for example. Aesthetic surgery procedures include injections, liposuction, and facelifts.
Dr Sahil Singla, a plastic surgeon in Chandigarh, works closely with the wound care team. We have good expertise in the treatment of severe wounds, scars and burns, for example.
When to meet a plastic surgeon in Sector 28, Chandigarh?
You should visit a plastic surgeon in Chandigarh if the harm to your body or face affects your daily life. For example, heavy eyelids can cause headaches and make it difficult to see.
When a feature in appearance is constantly hampered, an aesthetic measure can improve the quality of life.
Preparing to see a plastic surgeon in Chandigarh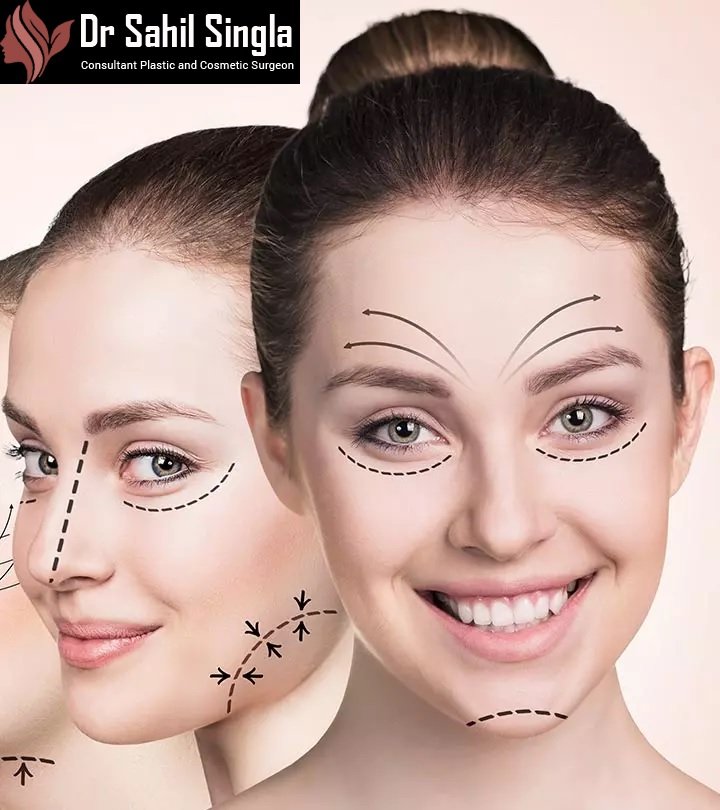 If you are just considering a plastic surgery procedure or are considering between several procedures, you may want to set aside a 30-minute reception time. It is a good idea to tell your own wishes during the consultation, on the basis of which the doctor will provide information about the different treatment options.
Set aside a planning time for a plastic surgeon for 60 minutes if you want extensive and in-depth information about different treatment options or if you already know which procedure you want. During the planning visit, a follow-up is agreed upon with the doctor.
Plenty of time should be set aside for planning plastic surgery operations. It is helpful to have an open discussion with your doctor about your own wishes and evaluate the possibilities realistically. The best plastic surgeon in Chandigarh, Dr Sahil Singla is able to give a professional assessment of the means by which the best possible result can be achieved.
Book an appointment with a plastic surgeon in Chandigarh. Call Today.
Singla Clinic
Shop No 164, Sector 28-D, Chandigarh