Dr Sahil Singla, Plastic Surgeon in Vaishali, Ghaziabad
MBBS, DNB (General Surgery), DNB (Plastic Surgery) Maulana Azad Medical College, LNJP hospital, New Delhi
Expert in Cosmetic, Plastic, & Reconstructive Surgery
Best Treatment Offered By Plastic Surgeon in Ghaziabad
Plastic surgery: the most requested
Plastic surgeries are increasingly more reliable, less invasive and more accessible to all budgets. Without neglecting safety, the Dr Sahil Singla, best plastic surgeon in Vaishali, Ghazibad has an ever-increasing offer.
Plastic surgeries are sought in order to improve the physical appearance and harmonize the face, hide scars or thin the nose. "Plastic surgery has become transversal to society. People understand it as a necessity, like going on vacation or changing cars, and put it on their to-do list", says Dr Sahil Singla.
In this health unit, people of all ages seek plastic surgeries that respond to different needs. "Here you will find the guarantee that the person performing the procedures is always a highly differentiated plastic surgeon in Ghaziabad, as well as the safety of a hospital structure that permanently provides all the medical skills and specialties", emphasizes the doctor.
What are the most requested plastic surgeries?
Mammoplasty
Which is
Generic term for a set of plastic surgeries that aim to harmonize the size and shape of the breast.
Augmentation Mammoplasty
Which is
This is breast augmentation using silicone implants. These can be placed in two ways:
Through the breast crease.
Through the armpit (using endoscopy). For small increases, surgery can be performed with fat infiltration (lipofilling). When the person has a lack of volume and little excess skin, a partial excision of the skin is performed in the placement of the prosthesis, in order to remodel the shape of the breast.
who is looking
"It is usually younger women, between 18 and 20 years old, who seek this procedure when they have small breasts, disproportionate in relation to their body, says the plastic surgeon in Vaishali.
Mastopexy
Which is
Surgery to lift the breast when there is no need to increase or decrease its volume. Reshapes the shape of the breast. The most recent techniques allow the woman to only have a scar around the areola, with or without a vertical scar, depending on the degree of sagging of the breast.
who is looking
According to Dr Sahil Singla, "it is usually older women who want this intervention, usually after having children or simply as the years go by".
Reduction mamomaplasty
Which is
It is a breast reduction for cases where there is discomfort in carrying out day-to-day activities, neck pain or simply because you do not feel well aesthetically. Currently, there are new techniques that allow you to reduce scars and prolong the duration of results. In addition to reducing the volume, the surgery also allows you to give the breast a beautiful shape and correct positioning.
who is looking
This surgery is indicated "for any woman whose breasts are of an inappropriate size. However, in overweight women, it does not replace the need for a previous diet in order to achieve the desired aesthetic result, as well as to avoid local complications inherent to the manipulation of large fat masses", warns best plastic surgeon in Ghaziabad.
Liposuction
Which is
It consists of removing excess fat from specific sites by aspiration using very thin cannulas (3 to 5 mm). The tiny size of these cannulas allows the entire procedure to be carried out with only minimal incisions of the order of 3-5 millimeters and usually placed in hidden places.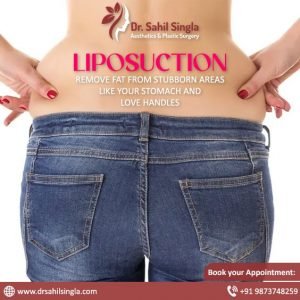 Liposuction is also known as lipomodeling, liposculpture or vibroliposuction. The removed fat can be used to reshape other areas. Thus, in the same way that it was removed by minimal incisions, it can be reintroduced by even smaller ones in order to remodel or increase specific areas (lipofilling). This is the case of gluteal remodeling that is increasingly sought after (gluteoplasty).
who is looking
"Liposuction is a transversal technique for all ages. It is a procedure that in most cases can be performed on an outpatient basis and with almost no work interruption and is also very safe. It cannot, however, be seen as a substitute for a diet or as a form of weight loss.
It allows spectacular results and almost no scars", explains the best plastic surgeon in Vaishali. "Gluteoplasty was imported from tropical countries (such as Brazil and Angola) where great importance is also given to the posterior contour of women. We have been noticing a growing demand among us. of these procedures, following an evolution in the aesthetic sense of society", reveals the surgeon.
Plastic surgeries: the most requested by men
More and more men are concerned about their physical appearance and their body in particular. "When they can't look the way they want just with the gym, they seek the help of a plastic surgeon", says Dr Sahil Singla. The removal of localized fat by liposuction is the most requested procedure.
Correction with gynecomastia (surgery indicated for situations in which there is abnormal growth of the breasts in men), which can be associated with liposuction, is very common. According to the plastic surgeon in Ghaziabad, there is a greater demand from people aged between 50 and 60 years for facial and cervical rejuvenation (cervicofacial lifting).
The best time to have plastic surgery
"In the case of liposuction, for example, to obtain the best possible result, you will have to wear an elastic band for approximately two months. In addition, the result is only stabilized around three months. Therefore, not only because it is not pleasant to walk with an elastic belt in hot weather, but if you want the best result for that time, you should choose to have an operation in advance".
A breast augmentation, on the other hand, can be done at any time. "After a month it is practically unrestricted. Regarding the scar, as it is minimal and, if you put a full screen, it is protected", he clarifies.
Cares with the body
Cosmetic surgery should not be a substitute for body care, a balanced diet and physical exercise. "Especially in relation to fat mass reduction surgeries (liposuction, abdominoplasty, etc.) it must be framed in the global treatment of each person, where the nutritionist must enter.
Sometimes, it can be done even before the weight loss process is over, to act as a stimulus", he assures. "That way, you see some faster results, but you have to keep losing weight," he adds.
Manage Expectations
Managing expectations in cosmetic surgery is very important. Clarify any doubts you have and ask the doctor all the questions you need. Do not hide any kind of information related to your health. Avoid entering the operating room with an unrealistic image in your head.
"There are people who come for the wrong reasons, such as thinking that their relationship problem due to personality or shyness is resolved by having liposuction. Of course, you can never be happy with the result of liposuction, as it does not solve the problem that led you to have the operation", explains plastic surgeon in Vaishali.
For the surgeon, there is no doubt that it is essential to understand the real reasons for the surgery and to make it clear that "cosmetic surgery is a person's thing for himself in his relationship with the mirror".
Leelawanti Skin and Laser Clinic
1st Floor, Plot No. 4/30, Mahagun Villa, Sector 4C, Vaishali, Ghaziabad